Next, we download a graphic from the web and drop it onto one of the Compose inputs.
Then, a few more clicks and the banner is converted to a poster.


The following screenshots show Compose creating the banner and poster. You may click on the screenshots to enlarge them.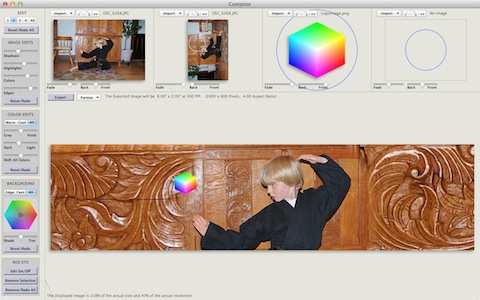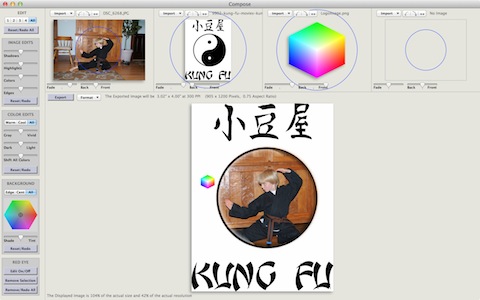 Now watch both the banner and poster being created from start to finish in this two minute YouTube video. This is the best way to see how Compose works and how easy and fast it is to use.
---
Karate Student Meditating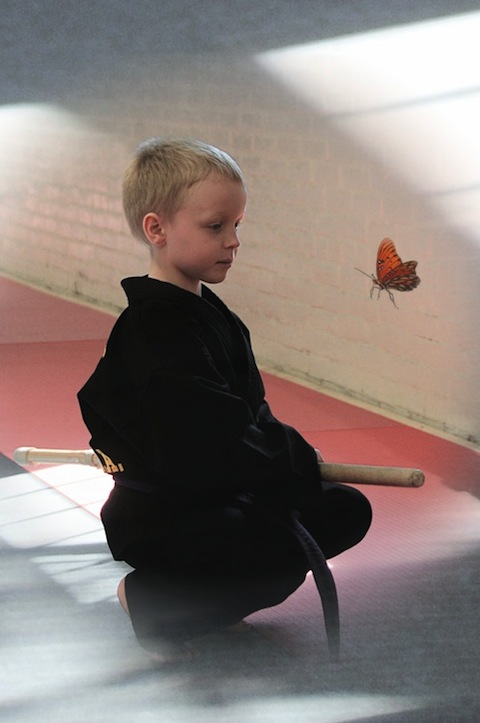 The digital image below shows the karate student meditating in the shadows.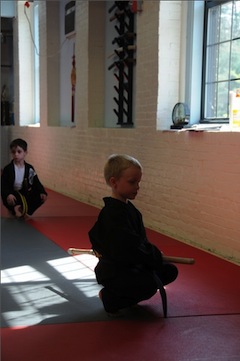 For the new composition on the right, we floated a butterfly graphic in front of the student. Then we copied the light from the floor of the original image to the background of the new image so the student now appears to be in the light. The student was also lightened and sharpened.
The following screenshot shows Compose creating this new composition. The 2 minute YouTube video shows the editing from start to finish. Click on the screenshot image to enlarge it and click on the YouTube size icon to enlarge it.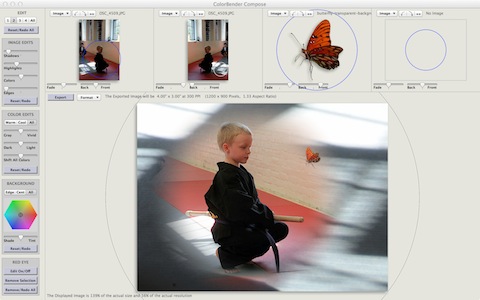 ---
Ballet Student
Using Compose, this banner was created in seconds from the first of the two images below. The background is the dancer's skirt. Then, the 4G Color Logo Graphic was floated in the upper right corner.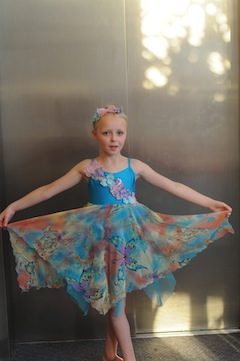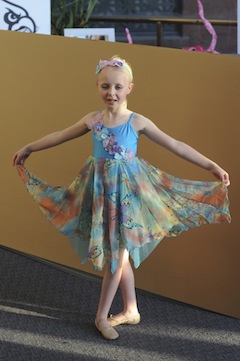 Then, with a few more clicks, the second image was used for a different background, shown in the banner below.

The following screenshot shows Compose creating the banner. Click on the screenshot image to enlarge it.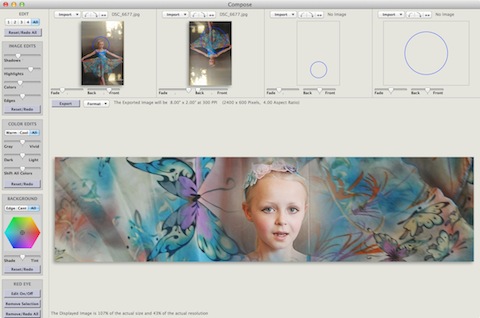 And, with a few more clicks, output a portrait.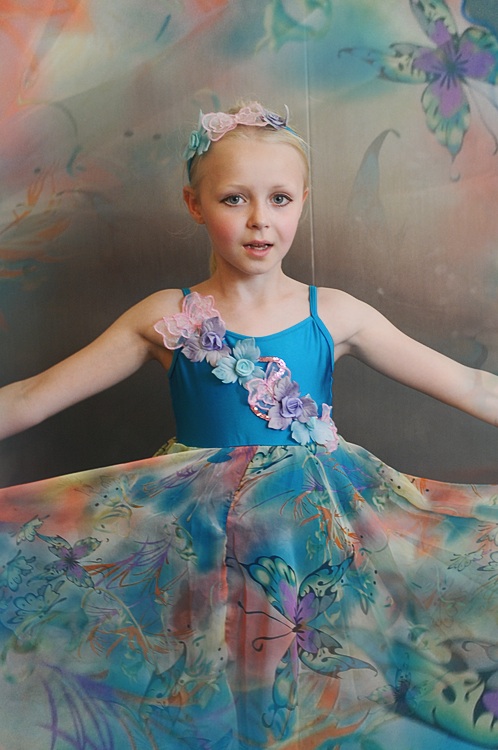 ---
A Karate Student and a Butterfly
These brief YouTube videos show some of the Compose editing techniques. Click on the YouTube size icon to enlarge.
Fix Red Eye and Blotchy Skin
Fix Yellow Grass

Create a Background Color

Gradient



Blending and Fading

A Girl and Her Hat

Surfing the Sky
---
What is Compose?
Compose is a Digital Multiple Exposure Photography Application. You start with one or more digital images, select regions of interest and combine them to create a new image.
Compose includes a full-featured, high quality digital image editor that can adjust the individual image components or can adjust the entire composition.
Each of the image components can be interactively positioned, sized, rotated, edited, blended and faded until the best composition is achieved.
Save the results in any of numerous standard image sizes, resolutions and formats, or easily enter custom values.
What Compose isn't!
Compose isn't a layer model with frustrating cutout tools and hard edge masks.
Compose isn't a sequence of pixel operations that erodes the image quality and has strange, hard-to-learn order dependencies.
Where can you get Compose?
Download Compose on the Mac App Store. Compose is Gate Keeper and Mavericks Compliant.
---
Copyright 2012, 2013 by 4G Color